THE ART BLOWN FROM THE DEPTH OF SOUL.

To redefine Art as an energy catalyst, to convey flows of colored particles from different Worlds, spiritual and philosophical messages, is essential for me.

L'Art jailli de la profondeur de l'âme.
The Man is a unique work of himself. Art is in him.
My work is the fruit of a creativity that lifts the mind towards a sacred imagination in our strong interior.
Each work is an epic that takes us back to our own roots. Art is a sparkling intelligence connected to Creation.
My hand is the brush of my soul.
Art is only an intermediate medium between our souls and the real world.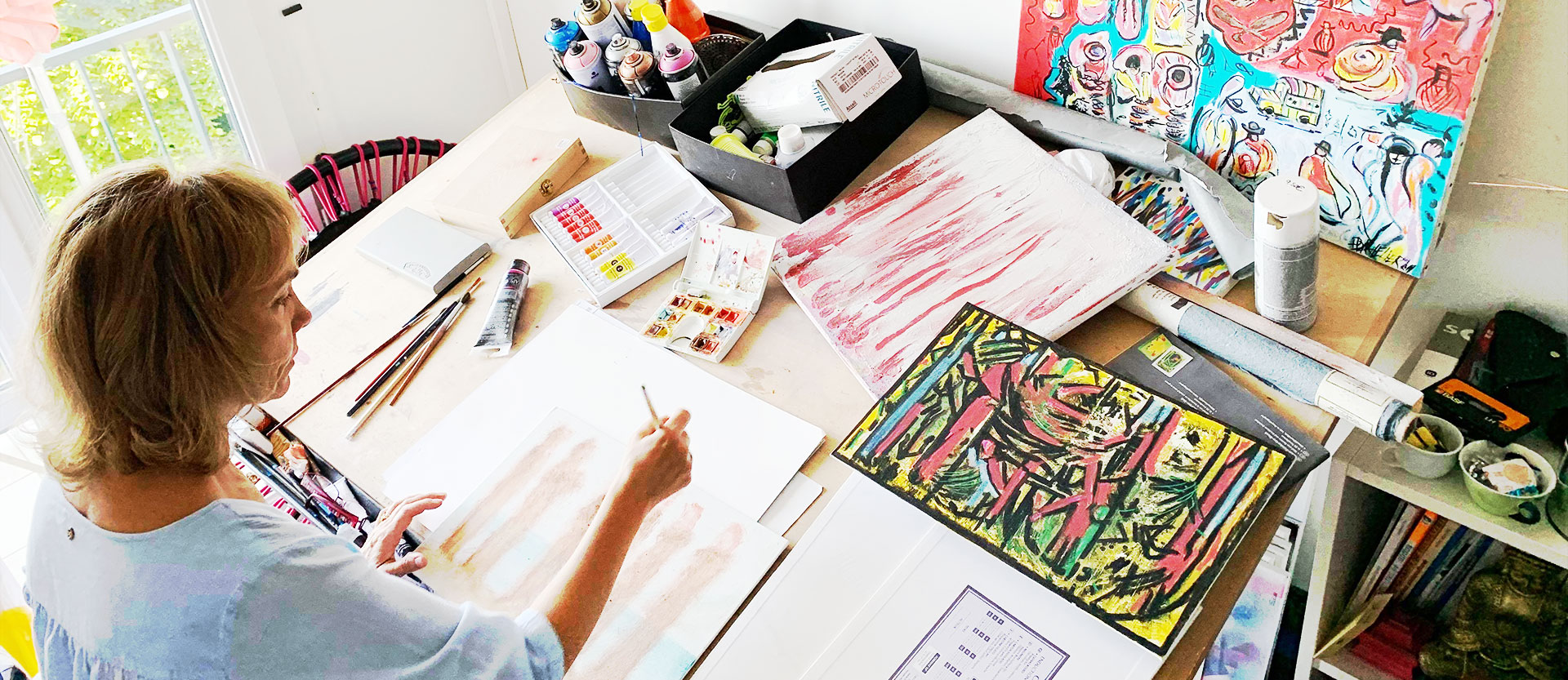 The creative process is the way to resonate with our individualization.
Creation is unique to Man.
ABOUT ME
Je viens d'une terre dont les peintres et les écrivains se sont inspirés.

« Tout y enflamme l'imagination… tout y serre le cœur » George Sand.




Pourquoi je témoigne d'un grand intérêt pour l'Art ?

J'expose ma façon de penser, je fais échos à la liberté, elle est si bafouée dans ce monde actuel. 

Un Artiste est avant tout un avant-gardiste.

Je me suis libérée des acquis hérités de l'histoire de l'Art du 20e siècle, tel un 

Phoenix pour

 laisser place à une imagination plus fertile.




Prendre part à l'histoire en cours d'écriture, c'est une chance fabuleuse dans la vie d'un artiste !




Mon point de vue : 

l'Art est à lui seul un acte de liberté. Il permet de nous évader.

l'Art apporte un sens vital, crée et transforme 

l'énergie. 

Sans l'Art le monde serait fade et stagnerait dans la non-évolution.




L'Art c'est la vie : 

C'est pourquoi chacune de nos vie est une œuvre à elle-même. 




L'Art  un facteur de paix :  

Il unit les hommes par delà les frontières. Il nourrit notre conscience.

Il est vaste de part sa pluri-dimensionnalité.




L'Art est la conception du tout : 

Il est créatif donc réactif.

Il réagit aux mondes qui nous entourent.

L'Art naît de la conscience, il est le déclencheur d'idées innovantes. 




Je désire mettre en œuvre ma créativité au service de l'Art, il 

 est pur comme un diamant à l'état brut.
Il est l'avenir du monde.